In this blog, we are making a comparison between an expensive and a cheap version of a product. These are Panda Dome Essential and Panda Dome Premium. There is a significant difference in price for these 2 products. But when is it worth it to buy the Premium version instead of the Essential version? You will find out while reading this blog.
What is Panda Dome?
Panda Dome is a security product for your device. It protects you against viruses, hackers and more. It is a software, that is easy to understand and use. Panda Dome offers 4 different versions, which vary in the amount of years the license can be used, and the number of devices the license can be installed on. The focus of this blog is on Panda Dome Essential and Premium, for 1 year and 1 device. However, Panda Dome has 2 other versions - Panda Dome Complete and Panda Dome Advanced.
Different versions of Panda Dome:
Panda Dome has quite a lot of different versions. Here, in the graphic underneath, we have listed the 4 different versions, together with the number of years and devices per version of Panda Dome that are available on Digi License: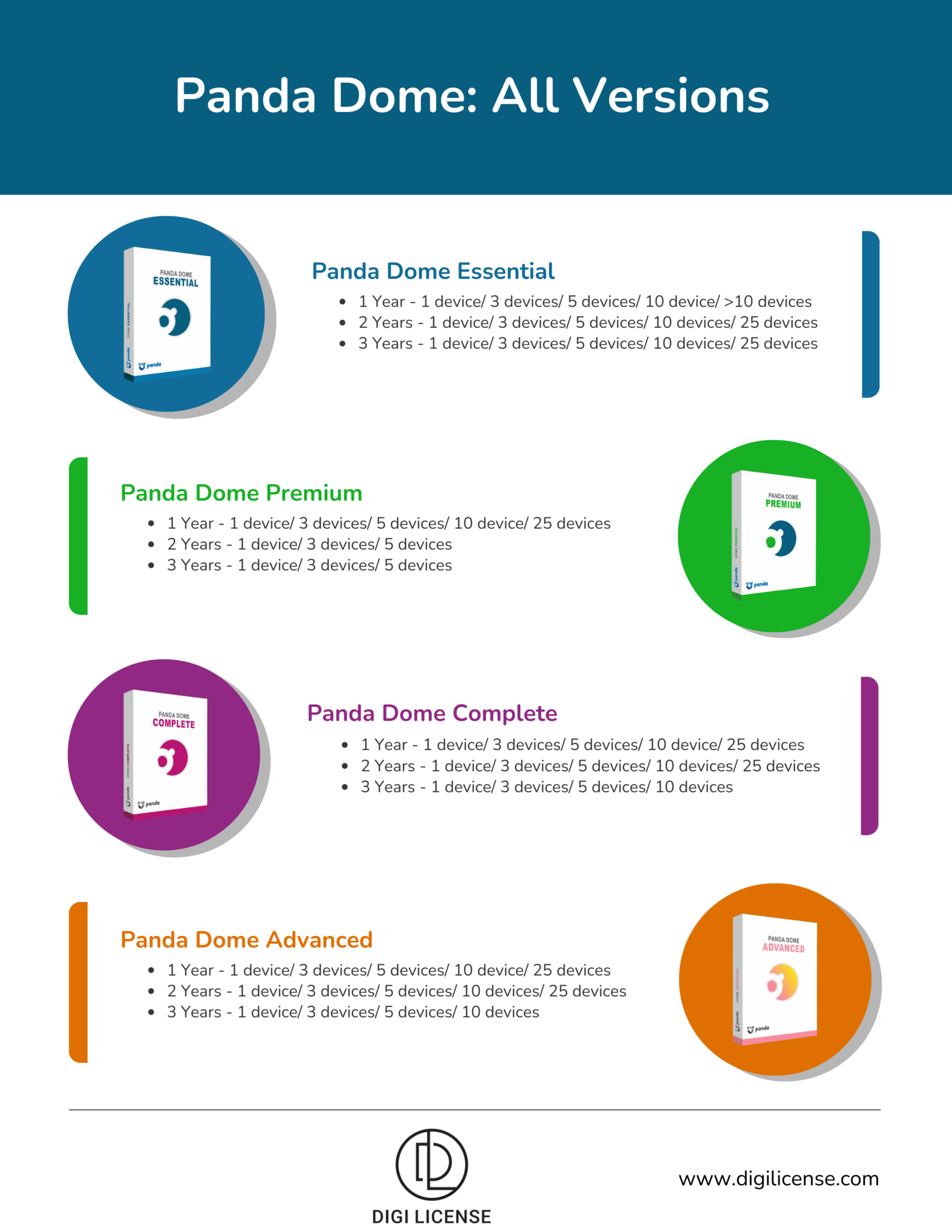 Differences between Panda Dome Essential and Premium:
There are quite some differences between Panda Dome Essential and Panda Dome Premium. While comparing the 1 device, 1-year versions of these 2 products, a lot of differences appeared. One of these is the price. Panda Dome Essential for 1 device and 1 year, costs roughly €10 on Digi License, while Panda Dome Premium for 1 device and 1 year, costs around €60. Essential does not offer excellent protection against threats, while Premium scores a lot better protection-wise. Moreover, Premium has more options and possibilities than Essential offers.
Panda Dome Essential vs Premium: Our Advice
If you are an individual, who only uses devices for private use, and not for work purposes, we advise you to go for the Essential version. If you think Essential would not be enough for you, but Premium would be too much, your version is either Complete or Advanced. If you are a company, or use your device a lot for work, we advise you to go for Panda Dome Premium. The main reason for this is the better security for your device, which is very important if you have all your work data on it. Naturally, you have to make the final choice yourself, however, based on our years-long experience at Digi License we want to advise you. If you have any questions about the products, you can contact us, by clicking on contact.