In the last 10 years, Microsoft has released multiple editions of the Office series. These are 2013, 2016, 2019 and 2021. In this blog, you can read more about the differences between the Office editions: 2013, 2016, 2019 and 2021.
Microsoft Office 2013 vs Office 2016
Office 2016 introduced quite some updates with its release in September 2015. These updates, are improvements over Office 2013, or new additions. In Office 2016, you can now see the live changes of other people working in the same document or presentation as you. This greatly helps the collaboration. There is now also the possibility, to access Office everywhere you go. You can use Office, and its applications, on your mobile phone as well. This is makes it really easy to use it anywhere you would like to. Something else that is available in Office 2016, is Multi-factor authentication. Within Outlook, it is now easier to attach files to your e-mails, from your own OneDrive. Excel has also received 2 new features, which makes it easier to search. The features in question are: Smart Lookup and Tell Me To Search. In Word, there have been lots of cosmetic changes, which can make your document look even better than before.
Microsoft Office 2016 vs Office 2019
A lot of valuable updates have been added to Office 2019, when it got released a couple of years back in September 2018. PowerPoint received new visualization options, such as Zoom and Morph. Excel has been expanded even more, with new formulas and graphs added to this application. What is more, Excel now has 2D maps and funnel charts. There have been security and usability updates for multiple applications, such as Sharepoint, Exchange and Skype for Business. Office 2019 online, has had a speed improvement, in comparison to Office 2016. Next to that, Outlook comes with new features and a completely new and better interface. Word also got a new feature, which turned out to be a very popular one. This one is the dark theme. You can now choose, whether you want the empty sides of your Word-document in white, or in dark. Microsoft added this option because it was doing very well in other applications and websites, such as social media platforms.
Microsoft Office 2019 vs Office 2021
Microsoft Office 2021 is the newest edition in the Office packages series, as it got released in October 2021. This means that the Office 2021 packages, offer the newest versions of the Office applications. One of the most important additions to Office 2021, is the fact that Microsoft Teams has been integrated into the bundles. This is instead of Skype for Business. Teams was used a lot during lockdowns and COVID-19. Because of this, people kept using it afterwards. Microsoft saw this as an opportunity to add it into Office 2021 Professional Plus, as this is the only bundle out of the 5, that offers you Microsoft Teams. In PowerPoint, there are now more options for recording your presentation. Next to that, searching has been massively improved in Outlook. This simplifies the search of your e-mails, contacts, appointments and anything else you may need. Next to the integration of Teams, there is another very important new feature. This is real-time collaboration. With it, you can now finally work with multiple people in the same document at the same time. This is something that users of Office have been waiting for for years, therefore, everyone loved it when it came out, as this makes things a lot easier, and it can save a lot of time.
Check the 2 tables below to see the differences in the applications included within Office 2019 and Office 2021.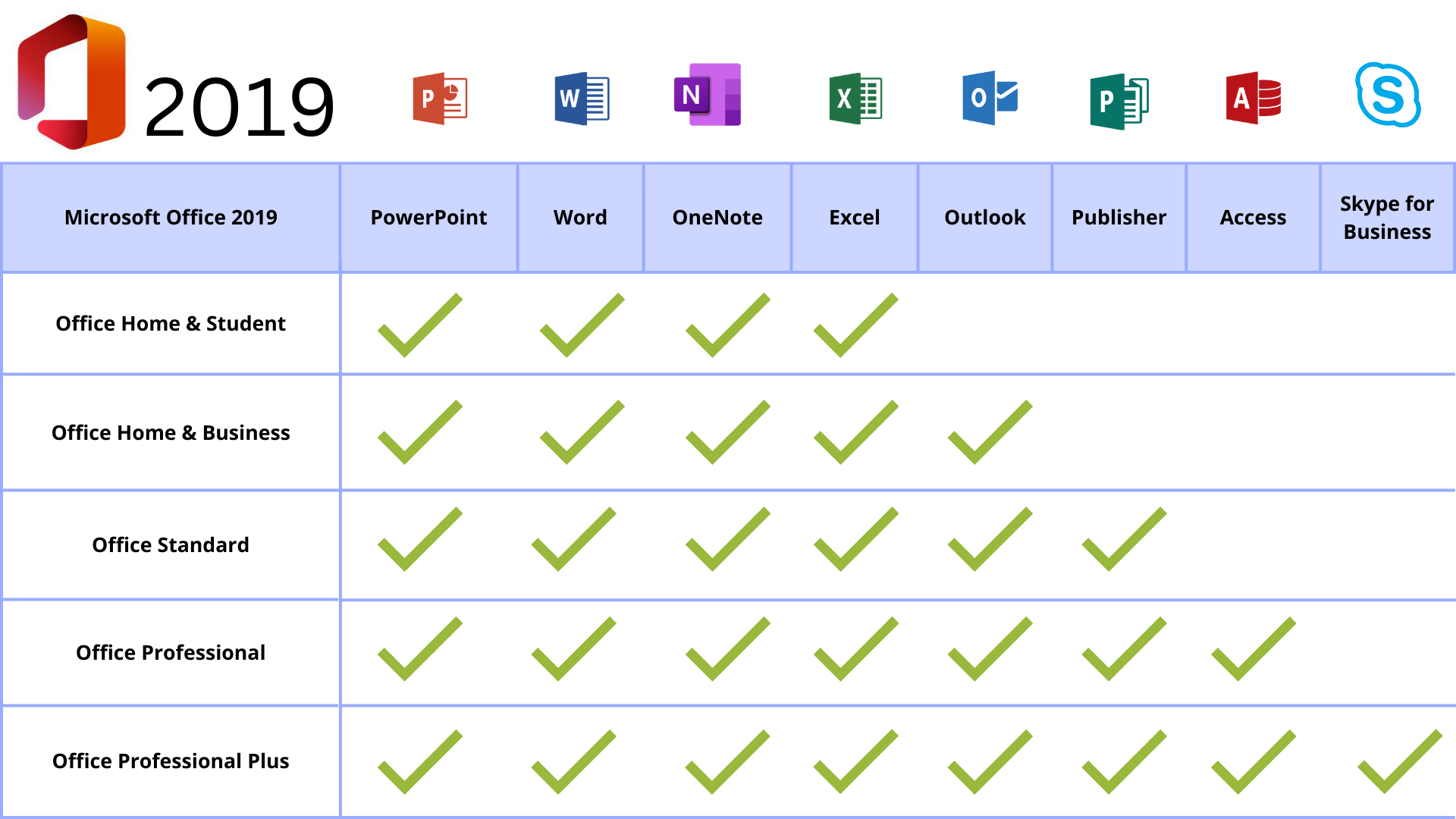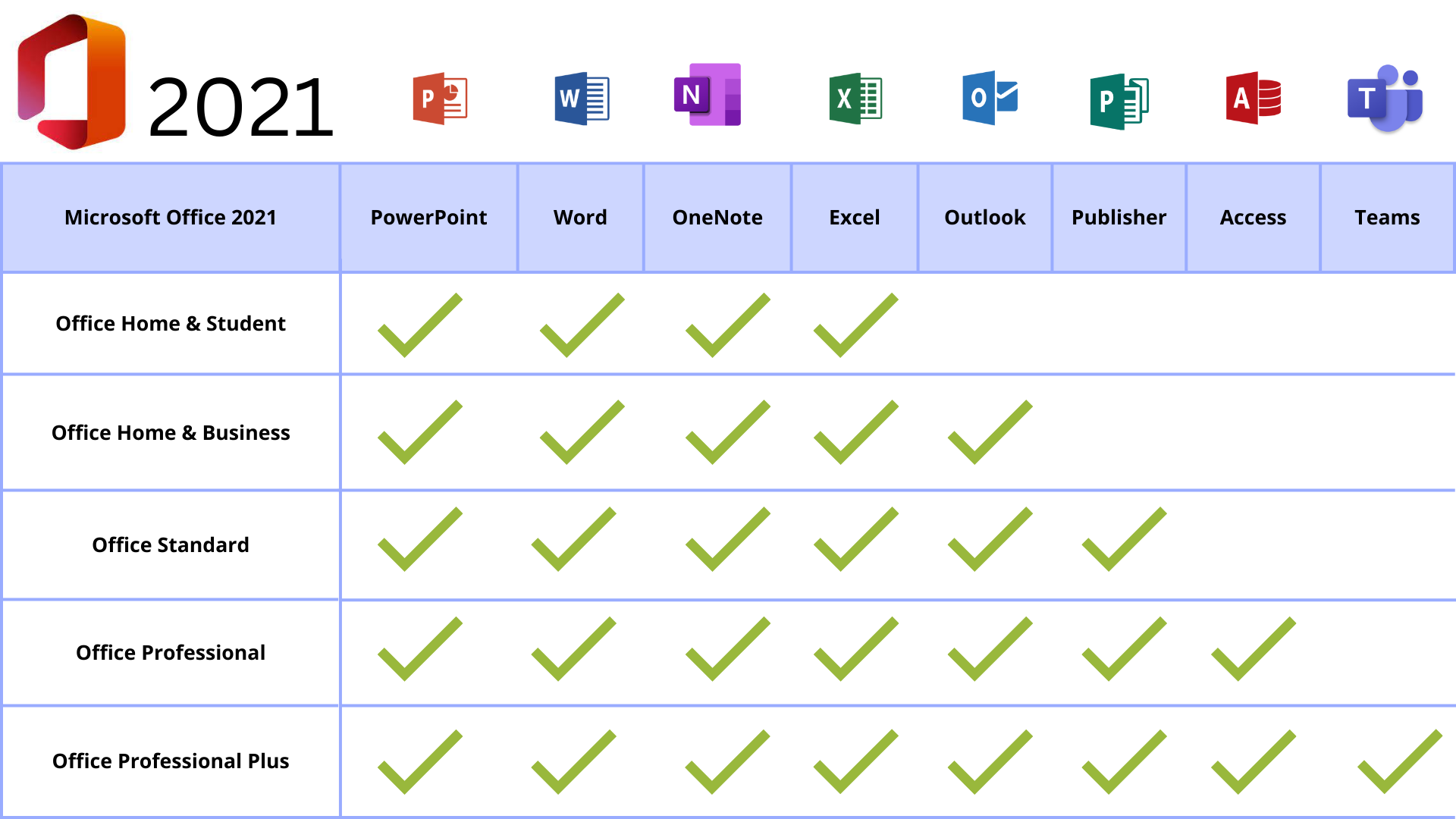 Microsoft Office 2013-2016-2019-2021 support enddates:
The enddates for these 4 Microsoft Office editions are as following:
Microsoft Office 2013: The standard (updates) support already ended in 2018. The extended (security) support, will last until April 2023.
Microsoft Office 2016: The standard support ended in 2020. The extended support will last until October 2025.
Microsoft Office 2019: The standard support ends in October 2023. The extended support will last until October 2025.
Microsoft Office 2021: Both the standard and the extended support for Office 2021, end in October 2026.
Conclusion & Summary:
With every new Office package new updates and improvements have been added. This makes the newest edition, Office 2021, the most updated one. Next to that, Office 2021, also has the longest support, as that ends in October 2026. At Digi License, we sell all Office versions and editions you read about in this blog, so 2013, 2016, 2019
and 2021. This means, for every edition we offer the 5 bundles: Home & Student, Home & Business, Standard, Professional and Professional Plus. Last but not least, the Office licenses are perpetual at Digi License, which means you can use it forever.