In this blog, you can read more about the 2 packages of Office: Standard and Professional Plus, their applications and how you can benefit from them. Next to that, the blog is mainly about the 2021 versions.

What is Microsoft Office?
Microsoft Office is a software package from Microsoft. These bundles, include various applications that differentiate per package. However, the same 4 applications are included in each Microsoft Office package: Word, Excel, PowerPoint and OneNote. The Office licenses are perpetual. This means, that once you buy the license, you will not have to re-buy it again, as it is with subscribtions, for example. This is unless you want a newer version, of course. Microsoft Office comes in 5 different bundles:
Only the bottom two, so Standard and Professional Plus, will be further talked about in this blog.
Microsoft Office Standard:
Microsoft Office Standard is the most optimal package of the 5, both in terms of price, and applications included. Standard is a very functional package, as it offers the 4 standard applications, but also Outlook. This software is also available as a web version. Microsoft Office Standard includes the following 6 applications: Word, Excel, PowerPoint, OneNote, Outlook and Publisher.
Microsoft Word: This is a program, in which you can compose and edit texts.
Microsoft Excel: In Excel, you can put and manage all your data and easily create tables and diagrams.
Microsoft PowerPoint: Creating and giving presentations is easy with this program.
Microsoft OneNote: This is an application, in which you can write down notes and share content with other colleagues.
Microsoft Outlook: This is a mailing application, where you also have the option to manage your agenda and contacts.
Microsoft Publisher: Publisher can be seen as a more detailed, and more advanced version of Word.
Microsoft Office Professional Plus:
Microsoft Office Professional Plus is the most expensive package from the 5 above, and is also available as a web version. However, this bundle offers the most applications. Next to the 6 programs that are included within Microsoft Office Standard, there are 2 additional applications - Access and Teams.
Microsoft Access: This is relational database management system easily used by the employees of your company.
Microsoft Teams: With Microsoft Teams, it is very easy to communicate with colleagues and clients, via the chat function, and the call functions. This way, you can have online meetings.




Applications included in Microsoft Office Standard & Professional Plus:
You may have already read about which applications are included in which Office bundle. Below you can find an overview for the Office Standard and Office Professional Plus (feel free to share this and credit us :).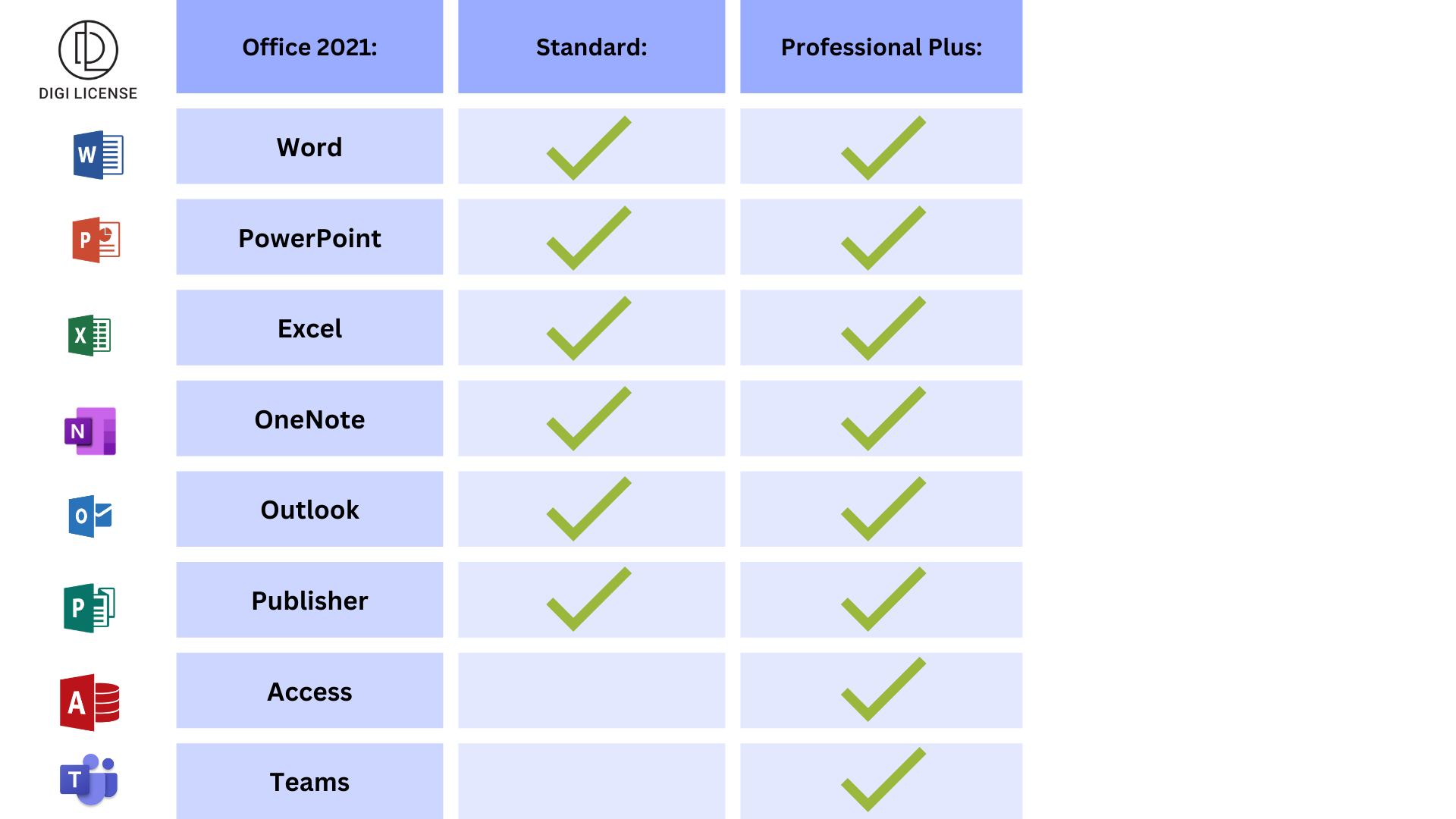 Conclusion of Microsoft Office Standard vs. Professional Plus:
If you are doubting whether to buy Office Standard or Professional Plus, the applications are probably the most important factor next to the price. If you really want or need Access and/or Teams, Office Professional Plus is the version for you. If you do not need any of the two programs, Office Standard would be a better choice. Also, Professional Plus is mostly used by big companies, where Standard is used by both individuals and small to medium size companies.