Microsoft Office is a software program that includes several applications which support your productivity, workflow and studying. Since Office is available as both a perpetual license (Office 2021) and as a cloud-based solution (Microsoft 365), it is important to make an informed decision about which one would be a better fit for you. Below in this blog, you can read more about the two software licenses, their differences and their characteristics. In the end, you can also use the questions to estimate each license's suitability level.


Office 2021: Overview
Office 2021 is a perpetual license that comes in multiple versions. The basic edition is Microsoft Office Home & Student 2021. With this package, you get access to the programs Word, Excel, OneNote and PowerPoint. If you also require Outlook to perform your day-to-day tasks, then the Home & Business version is the license for you.
With Office Standard 2021, you can make use of Word, Excel, PowerPoint, Outlook and additionally the application Publisher. Microsoft Office offers all these applications together with Access. Microsoft Office Professional Plus is the most comprehensive version and offers everything Office Professional does with the addition of Skype for Business. The table below illustrates which program is contained in which of the versions.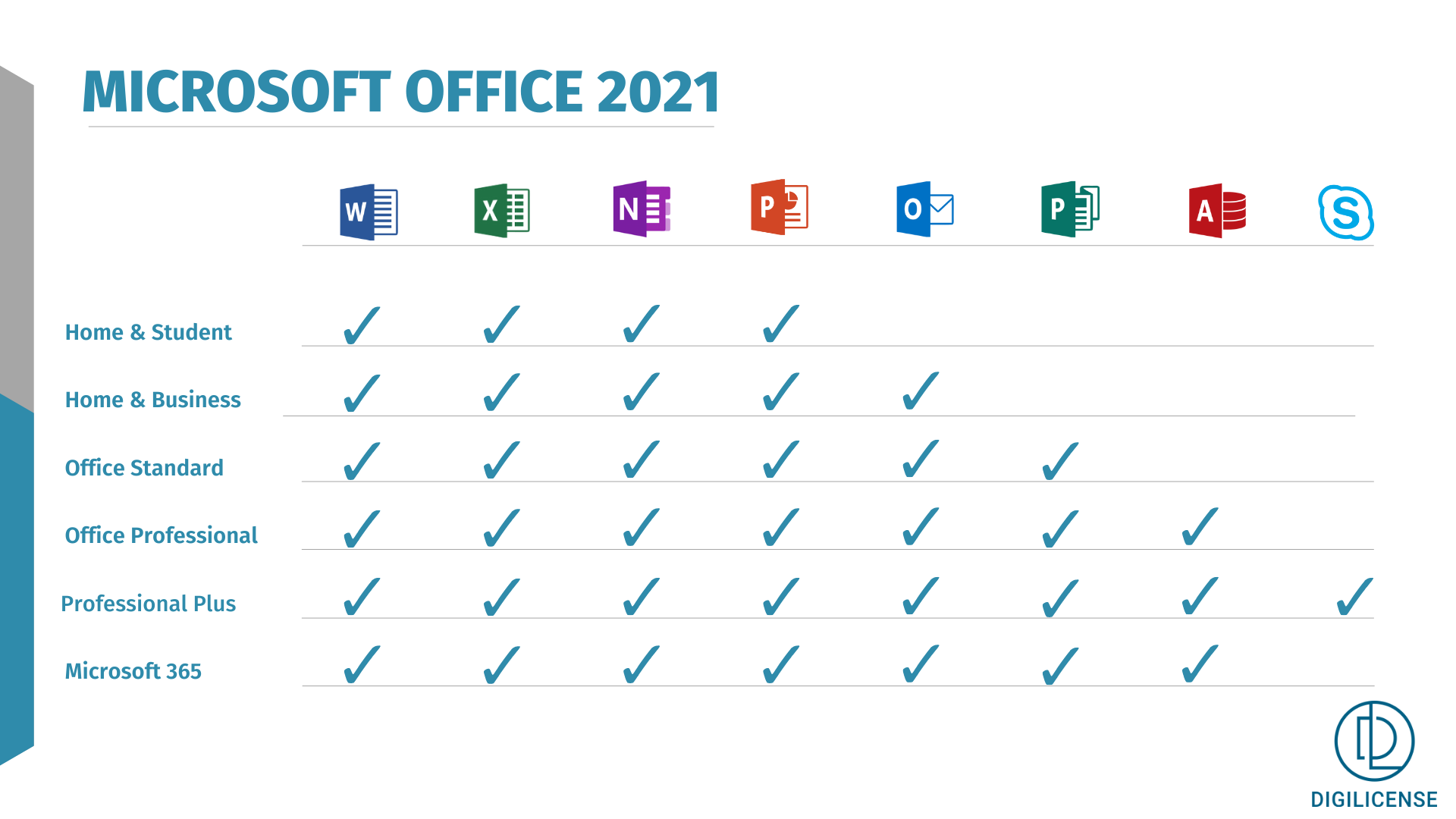 Microsoft 365: Overview
Microsoft Office 365 (previously known as Office 365) is a subscription-based license that includes well-known Office desktop apps such as Word, Excel, and PowerPoint. Similar to the perpetual license, the subscription software comes in different versions.
With the basic package - Microsoft Office 365 Personal, you can work on Word, Excel, PowerPoint, OneNote and Outlook. This version also offers you 1TB storage space on OneDrive. Microsoft Personal, as the name suggests, is suitable for one person. In case you are searching for this exact subscription but would want to use it with others, then Office 365 Family is the solution for you. With this version, you can share a subscription with up to 5 other users. Due to the increased number of users, this subscription comes with OneDrive could storage of up to 6TB.
If you would need additional programs such as Teams, Publisher, and Access, Office 365 Business Standard is the best fit for you. This version also enables the safe storage of data using OneDrive, SharePoint, and Exchange. Office 365 Business Standard is suitable for commercial use. The maximum number of users is 300.


Office 2021 vs. Microsoft 365 Comparison


What are the differences
One of the big differences between the two software programs is the payment model. With Microsoft Office 2021, you pay once at the time of the purchase and can technically use the license for an unlimited amount of time. With Microsoft 365, you pay monthly or yearly in order to keep using the license. While the monthly fee may not seem like a lot, in the long term the purchase of Office 2021 would be much cheaper.
Another point of difference that is worth mentioning is that Microsoft 365 remains always up to date. This license also comes with technical support valid for the duration of the subscription. The tech support for Office 2021 lasts 60 days.


Which one is the best choice for you?
The questions below can help you in the choice of Office software.