In this blog, you can read more about several things around SQL Server, such as: what an SQL Server is and does, how it works with the CALs and a comparison between two different versions.
What is SQL Server?
An SQL Server is a relational database management system (RDSM). This server was developed by Microsoft. SQL means Structured Query Language. The main goal of using the server, is to store your data and be able to manage it. To make it as easy as possible for the user, the data is being stored in rows and columns. This server is very important for your website, as it gathers all the data.
What is a CAL?
A CAL is a license that gives either a user, or a device, access to the SQL Server. A CAL allows your device, or user, to use the server and get full access to it. Also, there are 2 versions of CALs: Device CALs and User CALs, which you can read about further in this blog. There are versions where you will need to purchase a CAL, and there are versions where you will not need to do that. You can read more about that in the next paragraph.

Do I need CALs on my SQL Server?
We receive this question a lot at Digi License. The answer is that you sometimes do need it, and sometimes not. You will need this for the Standard version of the SQL Server, but not for the 2 Core version. This means, if you do not acquire these when buying the Standard SQL Server, you will not have access to your Server.
Do I need User CALs or Device CALs for my server?
This depends on whether you have more devices within your organization, or whether you have more users. If you have more users than devices, for example 50 users and 25 devices, Device CALs are the perfect fit. If your organization has more devices than users, for example 60 devices and 45 users, User CALs are the perfect fit. Take a look at the picture below, to see another example of this.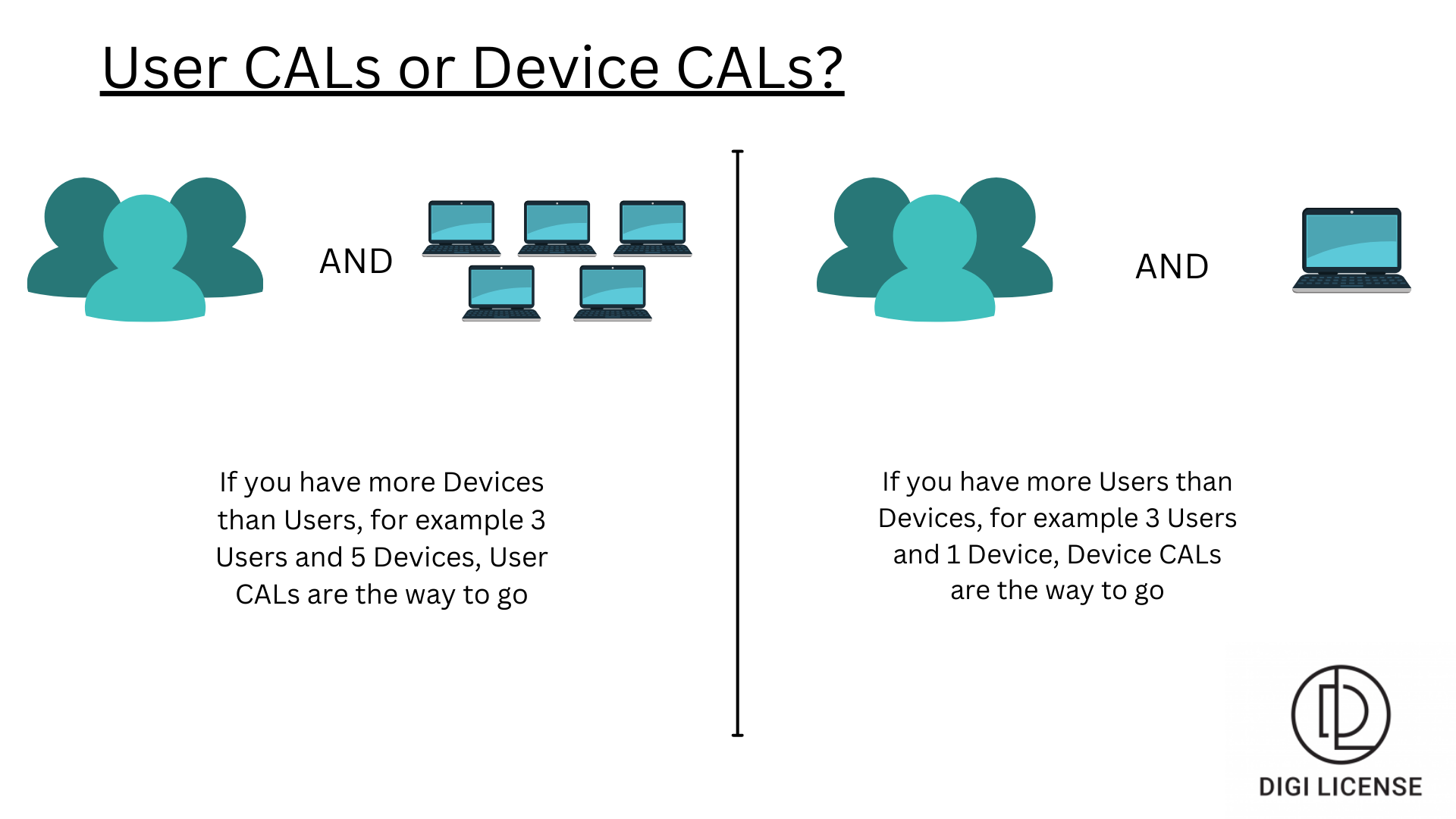 How many CALs do I need for my server?
This depends on how many users/devices you have and which one of the two you are going to acquire. You literally have to buy the same number of CALs, as the number of devices/users you have, depending on which one of the two you want to buy. This means, using the same example as in the paragraph above, you will need to get 25 Device CALs or 45 User CALs, following that example.
Conclusion/summary of SQL Server and CALs:
You will need CALs on the SQL Server, if this SQL Server is the Standard variant. You will not need it on the 2 Core variant. In order to get access to your SQL Server Standard, you will have to acquire CALs. These can be either User CALs or Device CALs. This depends on how many users and devices you have within you organization.