Many people wonder what applications are exactly included in Microsoft Office, and which applications belong to each Office version. In this blog, you can find more information around this and take a look at the Office applications that are included within Office 2021.
What is Microsoft Office?
Microsoft Office is a bundle of software applications. These can be used on both Mac and Windows (just make sure to check in the specifications that you buy the right license). Multiple applications are included within an Office package. There are 5 versions available, and in all 5 versions you will get PowerPoint, OneNote, Excel and Word. Further in this blog, you can see and read more about the differences between the versions. The license is not a subscription, it is a perpetual license. This means that after buying the license on Digi License, it will be yours forever.
Versions of Office 2021:
Microsoft Office 2021 offers various versions to the customer with different applications included. There are 5 versions available. These are:

What applications are included in Microsoft Office?
In the table underneath, you can see which version offers which applications in Office 2021: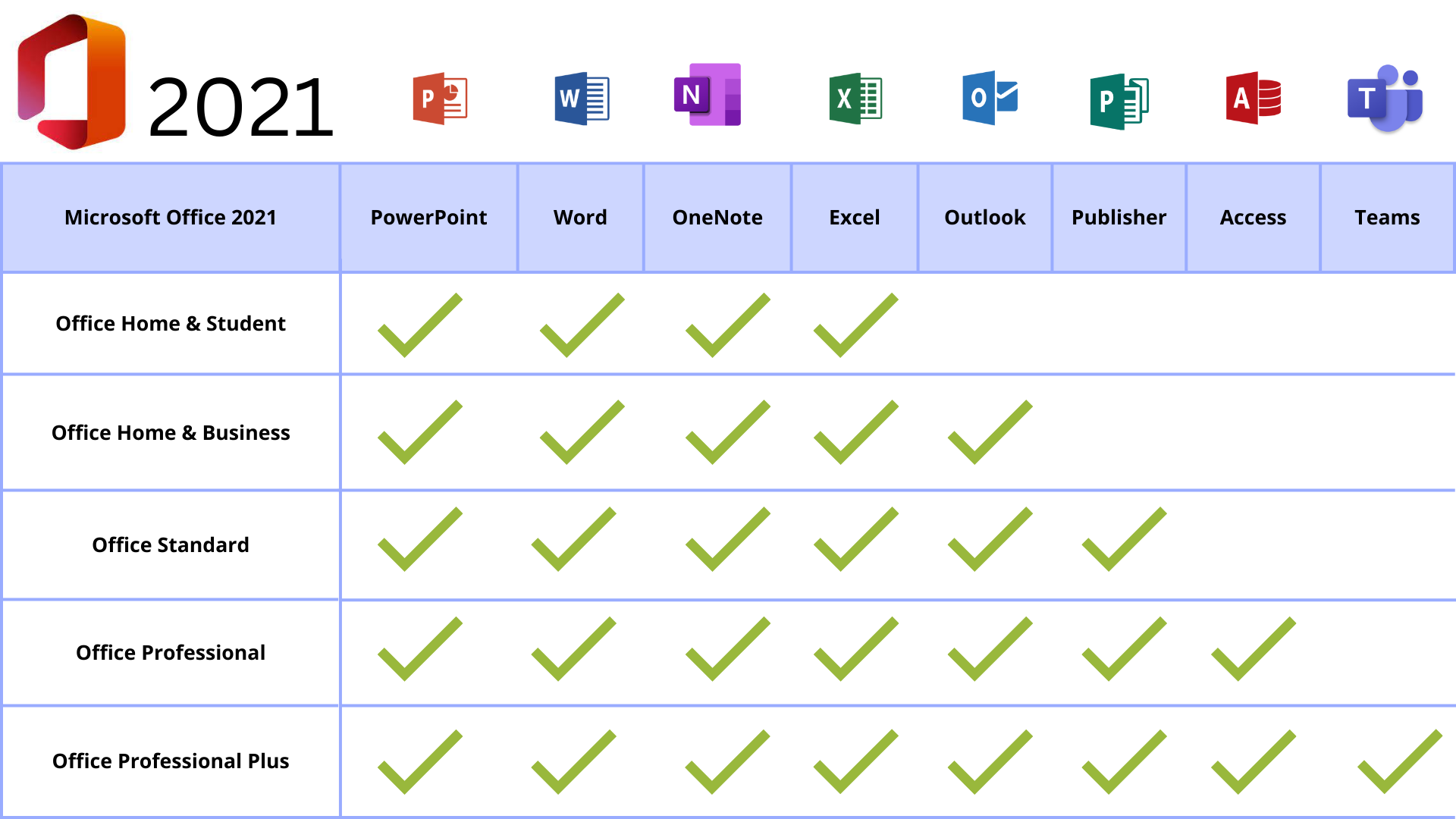 Microsoft Office applications:
As you can see in the table above, there are 8 applications available in total in the Microsoft Office 2021 versions. Below, they are listed with an explanation about what the application is and does.

Microsoft Word
Microsoft Word is an application, used for writing texts and processing words. It has quite some options and a lot of different purposes, everything you can think of when it comes to writing and editing a text. Microsoft Word is the most popular and most used word processing program in the world.
Microsoft PowerPoint
Microsoft PowerPoint is a program in which you can design presentations and customize them the way you want. This way, you can give the best presentation possible, for whatever purpose. PowerPoint also has a very handy feature, called 'designer'. This generates ideas for your design, based on the text and pictures you put into the PowerPoint. These can offer you beautiful designs, but can also save a lot of time for you.
Microsoft OneNote
Microsoft OneNote is an application, with which you can make notes, write texts, save pictures and much more. There is a wide range of possibilities within OneNote. This is one of the best and most used applications for making notes.
Microsoft Excel
Microsoft Excel is a program from Microsoft, in which you can store and manage a lot of data. It is also easy to make graphics, create tables and make calculations. Next to that, you can create spreadsheets and manage these.
Microsoft Outlook
Microsoft Outlook is the e-mailing application of Microsoft Office. You can also use this to assign tasks to yourself, or your colleagues. You can even put your contacts in it and use it as an agenda. However, the main purpose of Outlook is to use it for your e-mails, which you can send, receive and manage within Outlook.
Microsoft Publisher
Microsoft Publisher is a bit comparable with Microsoft Word. However, in Publisher it is easier to create visuals and designs, in combination with your text. Publisher is a better tool than Word, for creating flyers and books, for example. You can read more about Microsoft Publisher here.
Microsoft Access
Microsoft Access is a relational database management system (RDBMS). Within this application, you can create and manage databases. Access is mainly useful for smaller companies and private use. There is a step-by-step system in Microsoft Access, which makes it easily usable for every kind of user.
Microsoft Teams
Microsoft Teams is a communication application, which is only included in Office 2021 Professional Plus. This program got a huge boost during the periods of lockdown and COVID-19, because everyone had to work at home. Since then, it has really been integrated and most people use it on a daily basis. You can use the program to have calls, meetings and chat in groups.
Purchase your Office licence:
If you are looking for a cheap and reliable Office license, you click on Office licenses to take a look at our product range.
Read more about a comparison between Office 2019 and Office 2021.